Helping Hands Out of Hardship

Citizens Advice Telford and the Wrekin, Telford Mind, Stay Telford and Telford Crisis Support are working in partnership to provide support for people who are experiencing financial hardship and are unable to deal with these due to a vulnerability.
We can assist you if you:
are in financial crisis such as loss or severe reduction in income (as a result of loss of employment, benefit sanctions, new claim etc), threat of eviction etc.
have a vulnerability resulting from mental-ill health, learning disability, homelessness, being under 25 or any other form of disability.
Please refer to the leaflet for more information.
You can also be referred by an organisation/service that is helping you - for more information see the referral form.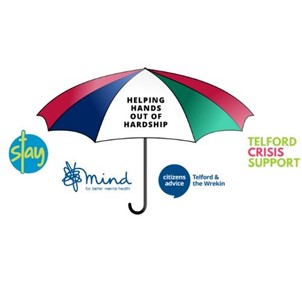 For further details or to make a referral including self referrals:
Call: 07714 784778 (Mon-Fri 9-5)
Email: case@telfordcab.co.uk
or Twitter: Helping Hands Twitter

The Helping Hands Out of Hardship is a project funded by the National Lottery Community Fund.